Bargaining for Our Contract
Your union's bargaining team is made up of volunteer faculty members just like you, not lawyers. They negotiate this contract with the UCF Administration and Board of Trustees (BOT). It is important to emphasize that since it is a mutual agreement, both the UFF leadership and the UCF leadership agree about the contract's language. Your bargaining team needs your support and input in this process.
The full contract (or full book) is bargained every three years. However, each year there are "reopeners," which need to be bargained. For example, Article 23 Salaries is bargained every year. Therefore, bargaining is almost always ongoing.
Full minutes and audio of bargaining sessions are on UCF's Collective Bargaining website.
      Get in Touch with Bargaining
Whether you'd like to join the bargaining team  or just provide some feedback. You are welcome to either get in touch with leadership using the
contact form
or by visiting the
leadership page
to message the current bargaining committee chair.
UFF-UCF Post Tenure Review Cease and Desist Letter We want to remind everyone that we (UFF-UCF) delivered a Cease and Desist letter to UCF concerning Post Tenure Review. Cease and Desist Letter PTR-1 We put UCF on notice that they cannot implement Post Tenure Review...
read more
The AAUP released their Preliminary Report of the Special Committee on Academic Freedom and Florida. The full report is coming in the fall. The report notes that, "The Florida legislature has passed a series of bills that, taken collectively, constitute a systematic...
read more
UFF Flyer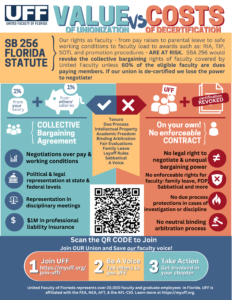 UFF-UCF
The United Faculty of Florida at
the University of Central Florida
4000 Central Florida Blvd, Orlando, FL 32816