Grievance Support
You have 30 days to file a grievance. Do NOT wait to contact the contract enforcement chair to get help.
Please use a non-UCF email account to contact us. Please provide your name, college/unit, phone number, and a brief description of the potential violation of our collective bargaining agreement. A grievance representative will be in touch soon to review the matter in more detail.
Grievance Policy
UFF-UCF has developed an internal policy for grievance support. It is important to understand:
Your responsibilities as a grievant
The role of UFF-UCF in the grievance process
All UFF-UCF members who wish to receive grievance support from UFF-UCF will be required to review and acknowledge the UFF-UCF grievance policy. You may download the grievance policy to review and sign below.
If you need help:
Your contract (the Collective Bargaining Agreement) provides you with many rights and protections. Your Department Chair, Dean, or other administrator may not know what your rights are, and they are under no obligation to fully explain your rights to you.
Our union, the United Faculty of Florida at UCF, is ready to talk with you about your rights and the protections you are offered. Contact us, and we will try our best to answer your questions.
Remember you are not alone
The UFF-UCF Grievance Chair can answer your questions and provide grievance advice to members of the UCF-UFF bargaining unit.
The UCF-UFF bargaining unit includes faculty, librarians, counselors, physicians, and others. UFF-UCF also provides grievance representation to its members.
Not a dues paying member?
Due to Florida law and limited resources, our union cannot represent non-dues-paying members in grievance disputes.
If you are not a member, UFF-UCF still represents you in bargaining for contract and salary raises, but UFF-UCF cannot represent you personally.
All faculty have the right to file an individual grievance, but those who were not UFF members when the incident occurred must represent themselves or retain an attorney. Here is the full UFF official policy if you were not a dues-paying union-member at the time a violation of your rights occurred.
Our organization is growing every month. Help build the strength of our faculty and protect your rights by joining UFF-UCF today.
UFF Flyer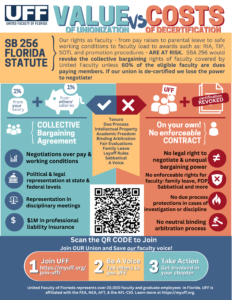 UFF-UCF
The United Faculty of Florida at
the University of Central Florida
4000 Central Florida Blvd, Orlando, FL 32816