On this page, you will find approved policies of the UFF-UCF Council.
Facebook Group Code of Conduct and Membership
Our Facebook Group can be found at the following link: https://www.facebook.com/groups/438383886259219
Our Facebook Group (United Faculty of Florida at UCF) is a moderated private group for members of United Faculty of Florida at University of Central Florida (UFF-UCF).
Membership-Only current members who are listed on the most recent membership rolls shall be a member of the UFF-UCF Facebook Group. Non-members and former members of the union will be removed.
UFF officials and staff can join the group including but not limited to Executive Director, President, Vice President, Service Unit Representatives, and any other staff members.
Admins of the UFF-UCF Group will come from the ranks of the Officers, Membership Committee and Publication Committee.
Speech and overall interaction on the UFF-UCF Facebook Group shall adhere to the AFL-CIO Code of Conduct as well as the Facebook Code of Conduct.
Any violation of the AFL-CIO Code of Conduct, the Facebook Code of Conduct or online behavior that runs counter to the spirit of our UFF-UCF Anti-Racism Statement may result in removal of any communication or person from the UFF-UCF Facebook Group.
Decisions on violations of Code of Conduct and any actions taken will be decided by a majority of voting members of the Executive Council excluding the President who shall preside over the discussion and vote but act as an ex officio for the vote. The president will vote in case of a tie. In the case of a direct conflict of interest, executive committee members must recuse themselves.
Appeals of any decisions or actions taken by Executive Council concerning conduct in the UFF-UCF Facebook Group can be submitted to the UFF-UCF Council for consideration via any Council Member for the subsequent Council Meeting. If a motion to reverse the measure passes Council by a majority voting who are present in the meeting then the decision of Executive Council regarding the communication or membership in the group will be reversed.
Last modified and approved by the UFF-UCF Council on September 20, 2021.
Blank
Your content goes here. Edit or remove this text inline or in the module Content settings. You can also style every aspect of this content in the module Design settings and even apply custom CSS to this text in the module Advanced settings.
UFF Flyer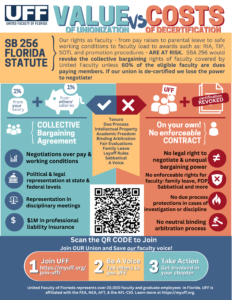 UFF-UCF
The United Faculty of Florida at
the University of Central Florida
4000 Central Florida Blvd, Orlando, FL 32816