The United Faculty of Florida at UCF
Welcome to UFF-UCF
Welcome to the official website for the University of Central Florida's Faculty Union! UFF-UCF proudly represents 1,700 faculty.
UCF and UFF-UCF sign a Covid Impact Agreement
UFF-UCF published in the spring edition of UFF News and Views
About the United Faculty of Florida at the University of Central Florida
We are Local AFT Chapter 7463. Our UCF faculty union is our collective voice. The more members we have, the more united and powerful we are together. The more the Administration notices our collective power, the more say we have in making UCF the kind of university we all want it to be.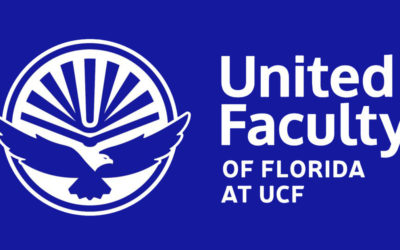 Hello everyone, this is a reminder of the upcoming UFF-UCF Council Meeting that is scheduled for Friday, May 22, 2020, at 10:00 a.m. Please see the agenda for the meeting here. The Zoom link to attend is included on the agenda. If you would like to add additional...
read more
Ratification Update
We are pleased to announce the conclusion of our ratification vote. All articles have been approved by an overwhelming majority.
Article 3 – UFF Privileges: 102 Yes, 5 No
Article 17 – Leaves: 104 Yes, 4 No
Article 18 – Inventions and Works: 104 Yes, 4 No
Article 23 – Salaries: 100 Yes, 8 No
Article 23 – Salaries adds language to confirm the $1,000 one-time payment we received in November, adding to the 1.25% increase we had already negotiated. This closed the 2019-20 contract on salaries.
Collective Bargaining Agreement
Due to COVID-19 precautions, hard copies of the CBA will be delivered to campus mailboxes later this summer. You can read the agreement in Printable PDF or HTML Text.
About the Bargaining Process
Bargaining for the 2018-2021 contract is now happening.
The 2015-2018 contract is in effect. Your bargaining team is made up of faculty here at UCF just like you — not lawyers! Please give them your support and your input.
Find out more about our Bargaining Team here.
Have you read the Faculty Contract?
Our Faculty Contract sets forth our rights and responsibilities. 
Take a look at our Current contract here.
Why should you become a member of the faculty union?
Many faculty and staff at UCF are unaware of their rights. UFF at UCF is dedicated to academic freedom and improved work conditions for faculty, staff, and students.
Every year, the bargaining team sits down with the Board of Trustees' team of attorneys and negotiates the contract.
Become a member today!
 
Join the United Faculty of Florida at UCF
UFF-UCF
The United Faculty of Florida at the University of Central Florida
4000 Central Florida Blvd, Orlando, FL 32816
Learn More
Get Involved